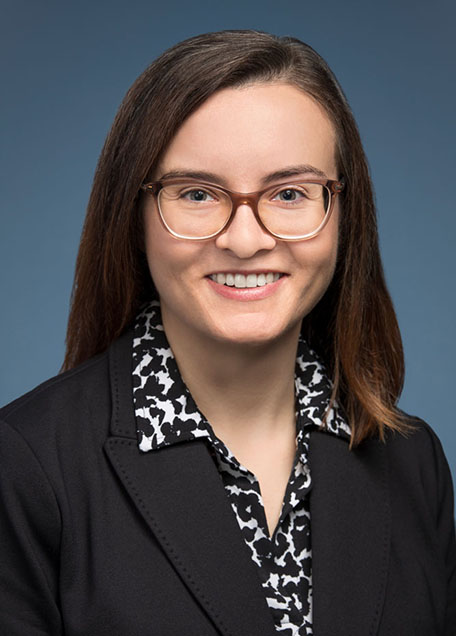 Amy Williams
Associate Attorney
Ms. Williams, Associate Attorney, represents the defense in workers' compensation claims. She conducts research, drafts documents and correspondence, and assists in discovery and the analysis of medical reporting. She attends conferences, hearings and trials, appearing before WCABs throughout Northern California. Before passing the Bar, Amy was a Law Clerk for the firm, assisting attorneys in all matters of workers' compensation defense.
Amy was a Law Clerk with Henshaw & Henry in San Jose, where she conducted research, organized memoranda and briefs, and drafted case management forms. She also maintained communication with clients, opposing counsel and insurance companies. She served as a Judicial Intern for the Santa Clara County Superior Court in San Jose, drafting legal summaries in civil procedure and helping to eliminate the backlog of processing and filing search warrants.
Before attending law school, Amy was a Marketing Associate/Sales Order Processor at Sierra Circuits in Sunnyvale, reviewing contracts and nondisclosure agreements regarding the company's intellectual property rights. She also drafted proposals for contract changes, and facilitated contract negotiations with outside counsel. At the Heritage Realty Group in Morgan Hill, Amy started as an Office Assistant before her promotion to Assistant Transaction Coordinator, responsible for creating timelines and implementing a database to facilitate smooth and timely closings. She coordinated with all parties in the preparation of documents.
Working in Dublin, Amy was a Manuscripts Assistant at the National Library of Ireland, where she organized donated manuscript collections and catalogued five of them to expedite digitization. She also served as an Enrichment Instructor for the Step Up After School Program in Stockton, teaching kindergarteners and first-graders language arts, math and P.E. She also devised lesson plans and maintained communication with parents.
Amy received her Juris Doctor from Santa Clara University School of Law in Santa Clara, where she was Secretary of the St. Thomas More Society and a member of the Women & Law and Criminal Law societies. She received a CALI award (computer-assisted legal instruction) for Remedies, and was a Semifinalist at the Honors Moot Court Internal Competition. Amy holds a Master's degree in Political Science from San Francisco State University, where she was a teaching assistant. She received her undergraduate degree cum laude from the University of the Pacific in Stockton, where she was Vice President of the Phi Alpha Theta academic honors society.
Amy speaks conversational German.