Red Alert: Governor Signs SB 1159
On Sept. 17, 2020, Gov. Gavin Newsom signed into law SB 1159, which establishes a rebuttable presumption that illness or death resulting from COVID-19 is compensable for front-line workers and employees who contract COVID-19 due to a workplace outbreak.[1] At the same time, Gov. Newsom signed AB 685, which, among other things, requires employers who receive notice of potential exposure to COVID-19 to provide specified notifications to their employees within one business day of the notice of potential exposure.[2]
In signing the bills, Gov. Newsom explained, "These two laws will help California workers stay safe at work and get the support they need if they are exposed to COVID-19." Click here to access the governor's announcement regarding the signing of the bills.
Because SB 1159 was passed as an urgency statute, it took effect immediately upon signing. Most significant for employers, that means they must begin immediately complying with the reporting requirements established under Labor Code § 3212.88.
Starting Sept. 17, 2020, employers who know or reasonably should know that an employee has tested positive for COVID-19 must report specified information to their claims administrators via email or fax within three business days so that the claims administrators can determine whether an outbreak has occurred. Specifically, employers must report:
An employee has tested positive. For the initial report, the employer must not provide any personally identifiable information regarding the employee who tested positive for COVID-19 unless he/she asserts that the infection is work related or has filed a claim form pursuant to LC § 5401.
An employee tested positive on a specified date, which is the date the specimen was collected for testing.
The specific address/addresses of the employee's specific place of employment during the 14-day period preceding the date of his/her positive test must be supplied.
The highest number of employees who reported to work at the employee's specific place of employment in the 45-day period preceding the last day he/she worked at each specific place of employment must be supplied.
The immediate effect also means that employers have 30 business days starting Sept. 17, 2020 to report when they know that an employee tested positive for COVID-19 between July 6, 2020 and Sept. 16, 2020. For such positive tests, employers must report the first three items above and, in place of the fourth, the highest number of employees who reported to work at each of the employee's specific places of employment on any given work day between July 6, 2020 and Sept. 17, 2020.
The reporting requirements for employers have become the most controversial part of SB 1159. Although no doubt well-intended to protect workers, they are incredibly burdensome for employers who now must keep track of the number of employees at each specific place of employment every day, and also keep track of employees who might work at multiple places of employment to ensure they are counted at each place.
Furthermore, the reporting requirements themselves are ambiguous. For example, the statute requires employers to report "[t]he highest number of employees who reported to work at the employee's specific place of employment," but it is unclear how these reporting requirements would apply if multiple employers share the same job site. For example, multiple employers might share the same office building, or multiple contractors might share the same construction site. It would not be reasonable for employers to know or report the numbers for other employees over whom they have no control.
The reporting requirements will need to be clarified either by statute or regulation. Until then, however, employers must be certain that they accurately track the number of their own employees working at each specific place of employment and timely report positive COVID-19 tests to their claims administrators, whether or not a claim is made.
View an Encore Webinar Presentation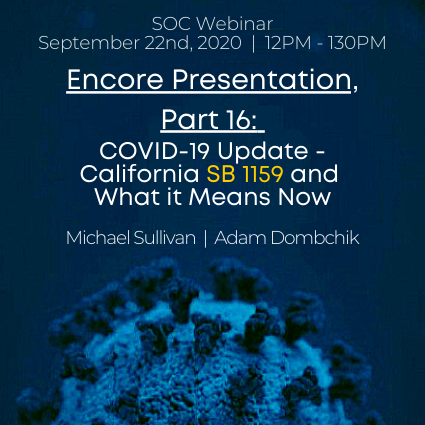 To assist your understanding of this new law and the impact it will have, Sullivan on Comp is running an encore presentation of the webinar, "California SB 1159 and What it Means Now" originally broadcast when the bill was passed by the legislature
Webinar Rebroadcast Details:
California SB 1159 and What it Means Now (Encore Presentation)
Next Tuesday, September 22, 2020
12:00 pm to 1:30 pm PDT
For a detailed discussion on the contents of SB 1159, see the article published by "Sullivan on Comp," on Sept. 3, 2020: California Legislature Passes Bill Establishing Rebuttable COVID-19 Presumption.
The text of AB 685 is available at: AB-685 COVID-19: Imminent Hazard To Employees: Exposure: Notification: Serious Violations.
Have questions about these laws and regulations? Michael Sullivan & Associates, the top-rated law firm in California, is always here to help you. Learn more about our professional legal services, get to know our California law firm, or contact MS&A to get more information and to schedule your free consultation with our team of experienced attorneys today.