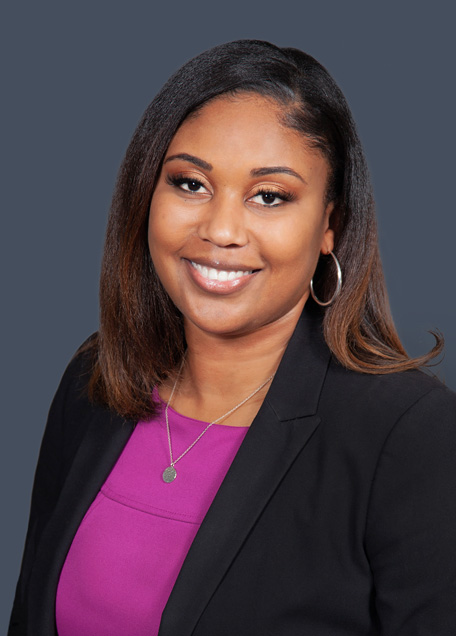 Ms. Divinity, Partner, represents self-insured employers, third-party administrators, and corporations in all aspects of workers' compensation. She devises litigation strategy from inception to the resolution of the case and appears throughout California.
In addition to her responsibilities to the firm and its clients, Ms. Divinity volunteers her legal expertise for the California Innocence Project, reviewing court transcripts, analyzing cases and drafting documents.
Before joining the firm, Ms. Divinity was an Associate Attorney with Adelson, Testan, Brundo, Novell & Jimenez in Long Beach. She represented corporations, small businesses and public entities in complex worker's compensation defense. She analyzed medical reports, conducted discovery and attended depositions and trials, refining her skills in claims involving permanent and temporary disability of varying duration. She also focused on issues including salary continuation, supplemental job displacement benefit vouchers and rebuttal presumptions. She worked extensively with third-party administrators.
As an Associate Attorney with the Law Offices of Weitzman & Estes in Seal Beach, Ms. Divinity assisted the Managing Partner in workers' compensation defense cases. She conducted client intake interviews and discovery, including depositions. She kept clients apprised of litigation strategy, attended conferences, hearings and trials, and conducted settlement negotiations. Her experience here bolstered her ability to navigate the AMA guides, as well as permanent disability schedules. She was successful in obtaining several take-nothing outcomes.
Ms. Divinity's first job after passing the Bar was as an Associate Attorney with Hayford & Felchlin in Los Angeles, assisting the Managing Partner with more than 100 workers' compensation cases. In addition to conducting research and drafting documents and correspondence, she negotiated liens and maintained client communications. During her last year in law school, Ms. Divinity was a Certified Law Clerk for the San Diego County Public Defender in San Diego, working in both the juvenile and adult felony divisions. She appeared at arraignments and probation hearings, conducted research, drafted documents, argued motions and worked with as many as nine attorneys.
Ms. Divinity received her Juris Doctor degree from Thomas Jefferson School of Law in San Diego. She was a member of the Public Interest Law Foundation, a mentor for the Academic Success Program and served as Secretary for both the Criminal Law Society and the South Asian Student Association. She also received the Wiley W. Manual Distinguished Service Award for her pro bono work. Ms. Divinity received her undergraduate degree from Sacramento State University.