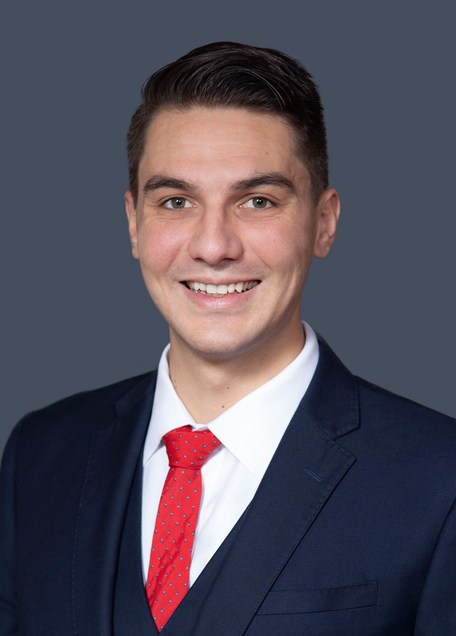 Austin J. Roberts
Associate Attorney
Mr. Roberts, Associate Attorney, represents the defense in workers' compensation claims. He conducts research, drafts documents and correspondence, and assists in discovery and the analysis of medical reporting. He attends conferences, hearings and trials, appearing before WCABs throughout Southern California. Before passing the Bar, Austin was a Law Clerk for the firm, assisting attorneys in all matters of workers' compensation defense.
Austin is a Seasonal Lifeguard for the California Department of Parks and Recreation, performing triage and rendering assistance to swimmers and beachgoers in Orange County.
He served as a Law Clerk at the Law Offices of Michael J. Zhang in the City of Industry, reviewing and drafting business agreements on matters of confidentiality, employment, privacy, real estate and terms of use. He also conducted research on best employment practices during the COVID-19 pandemic. As a Law Clerk at Earth Friendly Products in Cypress, Austin conducted research on FDA regulations and coordinated with that agency to ensure company compliance with COVID-19 mandates. He also reviewed and drafted employment, supply and service agreements. He was also a Law Clerk with Office of the City Attorney in Huntington Beach, where he conducted research on criminal and civil cases including defense of city police and municipal project disputes. He drafted criminal complaints and research memos, advised criminal defendants on alternatives to prosecution, and attended proceedings in state and federal courts.
Austin received his Juris Doctor from Chapman University Dale E. Fowler School of Law in Orange, where he was President/Community Service Chair for the Asian Pacific American Law School Association, and Vice President of the Mock Trial Team and the Employment Law Society. He was a Member of the Alternative Dispute Resolution Team and a Representative for the Student Bar Association. He also received the Marjorie W. Day Cal-ABOTA scholarship (American Board of Trial Lawyers) as well as an academic merit scholarship. Austin received his undergraduate degree cum laude from Chapman as well, where he received the Wilkinson Scholarship.