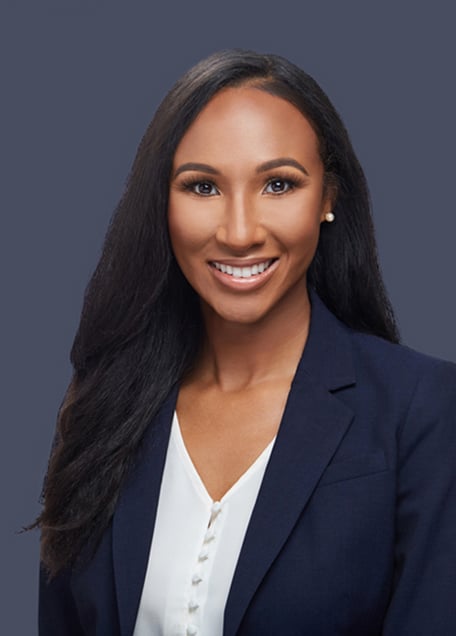 Christyn Richardson
Partner
Ms. Richardson, Partner, is a workers' compensation certified specialist and represents insurance carriers, self-insured employers, third-party administrators and corporations in all aspects of workers' compensation, from the inception of a case to its conclusion. Before her promotion, Christyn was an Associate Attorney. Ms. Richardson currently serves as a member of the Board of Directors of the African American Workers' Compensation Professionals (AAWCP) and the Advisory Board of the Western Region of the National Black Law Student Association (WRBLSA).
Before joining Michael Sullivan & Associates, Christyn was Claim Counsel at Dimaculangan & Associates in Orange. She represented employer clients of Travelers Insurance in litigation before WCABs throughout Southern California. She handled more than 100 case files, developing legal strategy, conducting discovery, drafting documents and negotiating settlements. She built a strong portfolio of claims involving exposure assessment, temporary and permanent disability and return-to-work. Before passing the Bar, she worked as a Summer Associate at the firm, conducting special research into extraterritorial application of workers' compensation laws and attending "Claim University," a national symposium for Travelers' Interns.
As a Law Clerk for the Orange County Public Defender in Santa Ana, Christyn assisted staff attorneys in a variety of ways — interviewing clients in custody, filing documents related to felonies and misdemeanors and maintaining communication with client families. As a Law Clerk for the California Public Utilities Commission in San Francisco, Christyn briefed and assisted Administrative Law Judges at hearings and workshops. She investigated business practices and California Environmental Quality Act compliance for applicants and complainants. She analyzed evidence and evaluated Certificates of Public Convenience and Necessity, and wrote memoranda on legal issues related to transportation, communication and energy.
Christyn got her first taste of the profession as a Legal Assistant for the Law Offices of John L. Burris in Richmond, where she developed English and Spanish script for the Chevron Refinery Fire callback involving more than 13,000 clients. She also created and implemented a digital signature verification process and map plotting of client locations, and wrote a white paper on the refinery fire for supervising attorneys.
She received her Juris Doctor degree from the University of California Irvine School of Law, where she was a recipient of the Dean's Award for excellence in the Law & Popular Culture class. She also received Dean's Merit, Raymond Bernard Scharf II and Development Corporation scholarships. She served as Sub-Regional Director of the Southern California Black Law Student Association, and later was Chair of the Western Region of the National Black Law Student Association. She also volunteered for UCI's Immigrant Rights Clinic in the ACLU Gang Injunction Project. Christyn received her undergraduate degree from the University of California, Riverside, where she was a member of the Chancellor's List and the Dean's List, and served as a mentor for Reach Out, a community-strengthening organization.
Christyn speaks conversational Spanish.