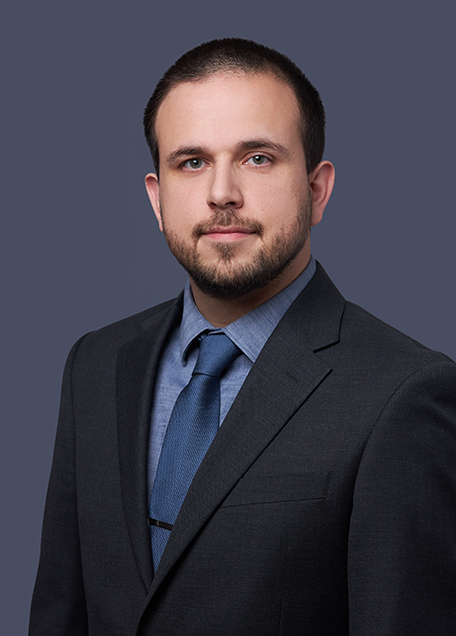 DANIEL GONZALES
ASSOCIATE ATTORNEY
Mr. Gonzales, Associate Attorney, represents the defense in workers' compensation claims. He conducts research, drafts documents and correspondence, and assists in discovery and the analysis of medical reporting. He attends conferences, hearings and trials, appearing before WCABs throughout Northern California. Before passing the Bar, Daniel was a Law Clerk for the firm, assisting attorneys in all matters of workers' compensation defense.
As a Legal Intern for Marvell Semiconductor in Santa Clara, Daniel was part of the employment unit for the global semiconductor designer, analyzing employment policy and conducting research into reimbursement law. He drafted separation agreements and performance plans, and reviewed documents for reductions in force. He produced privacy training and other documents to ensure compliance with the California Consumer Privacy Act.
Daniel also served as a Legal Intern for the City Attorney of San Francisco and for CSAA Insurance Group in Walnut Creek and Oakland. He conducted research for deputy city attorneys on labor and civil procedure matters for the former, and performed initial case analysis for the latter's vehicle collision claims. He also drafted documents, summarized deposition and medical records, and reviewed employment policy for the multi-state insurance carrier affiliated with AAA.
Before attending law school, Daniel was a Service Coordinator with Bay Home & Window in Pleasanton, resolving manufacturing and installation problems and reducing a backlog of outstanding service jobs. Starting as a Scheduling Coordinator, Daniel was promoted twice within six months.
As Assistant Store Manager for Dick's Sporting Goods in several California locations, Daniel interviewed, hired and onboarded new associates, and managed their performance. He resolved customer inquiries and concerns, achieving top district customer service scores. He was selected for admission into the sales manager trainee program, having been promoted from Bicycle Technician, then Lodge Lead, where he supervised outdoor/hunting/fishing sales associates, and audited firearm sales to ensure compliance with the law.
Daniel received his Juris Doctor from Santa Clara University School of Law in Santa Clara, where he received the Emery academic merit scholarship, and was a Quarterfinalist in Galloway Moot Court. He also volunteered at the Katharine and George Alexander Community Law Center as a workshop instructor on workers' rights. Daniel received his undergraduate degree from California State University, Channel Islands in Camarillo, where he was a Teacher/Mechanic with the student bicycle team.