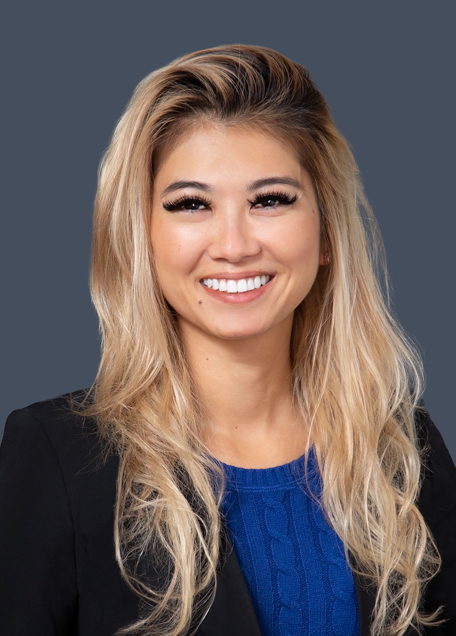 Julie Lam
Supervising Attorney
Ms. Lam, Supervising Attorney, represents self-insured employers, third-party administrators and corporations in all aspects of workers' compensation defense. She devises litigation strategy, conducts discovery, and analyzes medical reporting, diagnostics, and complex medical documents. She attends settlement conferences, hearings and trials, appearing before WCABs throughout Southern California.
As Associate Attorney at Hanna, Brophy, MacLean, McAleer & Jensen in Orange, Julie represented employers and insurance companies in workers' compensation defense from the inception of the case through resolution. She reviewed medical reports and discovery, conducted depositions, prepared ratings, and drafted settlement documents. Julie tried the most cases in her first year at the firm, prevailing in all of them, and obtaining a take-nothing award. She also attended client functions and conducted seminars for the firm on workers' comp law.
Julie was an Associate Attorney at Samuelsen, Gonzalez, Valenzuela & Brown in Newport Beach, also practicing workers' comp defense. She analyzed legal options and assisted in devising litigation strategy, prepared settlement valuations, drafted settlement documents, and reviewed discovery for lien issues. She often resolved liens below settlement authority. At Callas & Heise in Upland, Julie was an Associate Attorney representing insurance carriers, employers and applicants in workers' compensation matters. Julie was an Associate Attorney at the Law Office of Fred Thiagarajah in Newport Beach, sitting as second chair in a criminal defense trial in which the defendant was acquitted.
Julie served two stints as a Law Clerk with the Los Angeles County District Attorney's Office in Los Angeles and Norwalk. She prepared trial materials for more than 10 capital cases, conducted preliminary hearings, and drafted documents for numerous grand jury hearings. She also analyzed transcripts, drafted case summaries and sentencing memoranda, conducted research and assisted in criminal hearings and trials. As a Law Clerk with the Issuing Unit in the Office of the City Attorney in San Diego, Julie reviewed affidavits supporting arrest warrants and drafted memoranda to issue or reject cases for misdemeanor charges.
Julie received her Juris Doctor degree from the University of San Diego School of Law, where she participated in the American Association for Justice Mock Trial Competition and was a member of the Student Bar Association Honor Court's Judiciary Committee. She also was a Law Clerk for the San Diego County Public Defender Office, working with juveniles and drafting documents in preparation for trial. Julie received her undergraduate degree from the University of California, Los Angeles, where she was a member of the Phi Alpha Delta pre-law fraternity.
Julie speaks fluent Teo Chiu (Teochew), and conversational Vietnamese.