Support When Traveling the Country or Abroad
Now you can offer clients a travel benefit and identity theft solution their employees will appreciate. Travel Assistance provides employees peace of mind when traveling for business or pleasure. Identity Theft Assistance offers prevention and recovery information to help employees protect themselves from identity theft.
Comprehensive Travel Support for Employees
Finding resources to handle sudden, unexpected emergencies while traveling can be difficult. That's where Travel Assistance can help. Brought to you by Mutual of Omaha, this service provides around-the-clock access to services for employees, spouses and dependent children on any single trip, up to 120 days in length, more than 100 miles from home. Services include: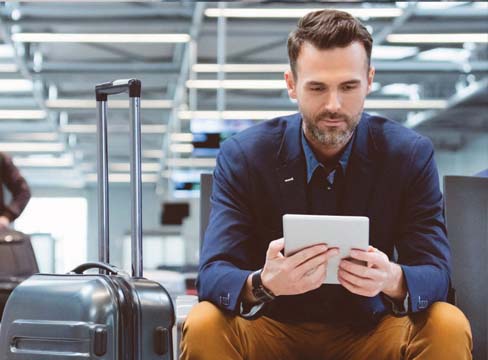 Emergency Travel Support Services
24/7 access to telephone interpreter services
Coordination of emergency cash needs and emergency payments
Location of legal services and coordination of emergency messages
Assistance with lost baggage, credit cards and airline tickets
Medical Assistance
Assistance with locating medical providers
Assistance with medical and personal communications and medical emergency lodging
Medical insurance coordination assistance
Arrangement of the appropriate transportation method for emergency medical evacuation and repatriation
Arrangement of transportation for return of mortal remains to the primary residence
Assistance with emergency evacuation if adequate medical facilities are not available, including payment of covered expenses
Arrangement of transportation for the visit of a family member or friend if hospitalization is more than seven calendar days
Arrangement of transportation for the return home of dependent children if hospitalization is more than seven calendar days
Assistance obtaining prescription drugs or other necessary personal medical items
Pre-Trip Resources
Available at any time (not subject to the 100-mile travel radius):
Information regarding passport and other documentation needs
Travel and health advisories, and inoculation requirements
Embassy locations and currency rates
Benefits
There is a maximum benefit amount per person associated with emergency evacuation, medical repatriation and/or return of mortal remains. All additional costs would be the responsibility of the member, including medical costs which are the responsibility of the person receiving medical services. Services must be authorized and arranged by AXA Assistance USA, Inc. designated personnel to be eligible for this program.
Identity Theft Solutions
Identity theft can be financially and emotionally devastating, with consequences that linger for months and even years after the initial event. With Identity Theft Assistance bundled with employee's Travel Assistance, employees may have more peace of mind.
WORLDWIDE TRAVEL AND ID THEFT ASSISTANCE
Services available for business and personal travel 24 hours a day, seven days a week.
For inquiries within the U.S.
call toll free: 1-800-856-9947
Outside the U.S. call collect
312-935-3658
Education and Prevention
Comprehensive ID theft assistance guide
Tips to defend against ID theft
Recovery Information
Information regarding the steps to recover from credit card and check fraud
Guidelines if your Social Security number is compromised
Instructions for lost or stolen passport
Contact list for financial institutions, credit bureaus and check companies
Assistance
Case managers are available 24 hours a day, seven days a week to provide the information above
Identity Theft Assistance does not provide credit monitoring, insurance benefits or direct recovery services.